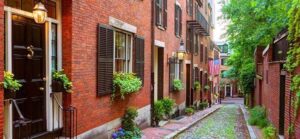 Boston Pads is home to Greater Boston's largest inventory of houses for sale in MA, giving you the buyer the most options of listings than any other online resource! If you're looking for real estate, and you'd prefer having a house to call your home, a backyard, driveway, and living space, then you've found yourself in the right place. We're dedicated to providing you the buyer anything you could ever need to close on the house you love so you can turn it into your home!
From classic brownstones to Victorian colonials with big wrap around porches, here you'll find some of Boston's most beautiful houses that are on the market. No matter what type of home you're looking for and in what neighborhood, you'll find the perfect match right here on Boston Pads! Use our search tool below, and filter your listings based on size, price, location, and much more!
We have countless MLS listings of homes for sale and you'll have access to Boston's most experienced real estate professionals, who combined have countless years of experience helping buyers like you find and close on their dream homes. Connect with them here, and you'll be in the driver's seat, well on your way to owning the property you've always wanted! They can help you simplify the buying process by ensuring you are adequately prepared financially, and they'll connect you with reputable service companies to help you with anything from moving to renovating.
With so much under one roof, there's no other resource you need to find your dream home!
Also browse Condos for Sale, and Multi-Family Homes for Sale.
Houses for Sale in Boston, MA
Bostonians take pride in their city, and for good reason. Other cities can claim their own historical roots, but Boston's history is America's history and more. Other cities might have an active sports fandom, but few match the sheer passion that fans of the Red Sox, Patriots, and Celtics exude on game day. While there are other metropolitan areas with strong economies, rich and diverse culture, a substantive arts community, world-class restaurants, gorgeous green spaces, and miles of ocean coastline, few combine them all as effortlessly as Boston.
It's of little wonder that so many choose to make their homes here. From historic buildings with rock-solid foundations, to some of the most exciting new construction happening anywhere on the planet, the houses for sale in Boston, MA provide an appealing, sometimes daunting, array of options for prospective residents. Whether you are moving to New England for the first time, or are a longtime resident looking to purchase a home in the greatest city in the world, never fear. Both the city and the houses for sale in Boston, MA can feel overwhelming at first. However, this guide will help you navigate the confusion, so you can find your new home in Boston with a minimum of stress.
Welcome to the neighborhood. Let's get started.
An Overview of Boston, MA
As some residents like to say, you can feel the history with every step you take. The beloved Fenway Park, home of the Boston Red Sox, – dates back to 1912, and many streets, shops, buildings, and homes have more than a century under their belts. Boston has a rich tradition of invention and industry, and its booming tech, biomedical, and financial sectors carry that torch forward with many residents moving to the city for work.
For those moving to the area, Boston's deeply seasonal weather can be surprising. The weather is as diverse as its population. Residents can expect snowy winters, rainy and breezy springs, sunny summers, and of course, arguably the most gorgeous autumn leaves in the world. Boston enjoys a wide array of top-shelf restaurants in every style imaginable; there are few, if any, better locales for fresh seafood. In contrast to younger cities and suburbs, Boston packs a lot of content into every square foot, with little wasted space. This means that not only shopping and dining, but also excellent healthcare, schools, theater, and museums are always just a few minutes away. It also means more traffic than the suburbs, though still far less than Los Angeles, or Manhattan.
Boston is small enough to get to know, but also large enough to have anything and everything you could want in a big city.
Boston Neighborhoods
Perhaps more than any other American metropolis, Boston is a city of neighborhoods. From the charming brick buildings of Back Bay to the gleaming luxury condos of the Seaport District, the houses for sale in Boston, MA are as varied as the neighborhoods in which they reside. Each neighborhood is like a city unto itself, with all the personality, charms, and quirks that implies.
If you are looking at houses for sale in Boston, MA, the biggest question you want to answer might well be which Boston neighborhood is right for me? While each neighborhood warrants a detailed look in its own right, here is a brief introduction to Boston's neighborhoods.
Allston
A trendy, modern neighborhood with great access via the Massachusetts Bay Transport Authority (MBTA, or just "the T") Green Line B branch, Allston offers easy commutes downtown. This easy access is in addition to its wide array of locally owned and operated restaurants, coffee shops, pubs, and more. Allston sees a large number of residents moving into their apartments on September 1st, so prospective homeowners take note: if you plan to move in during that time, your moving truck will have plenty of company on the road. Colloquially known as "Allston Rock City," residents have a large amount of choices of live music venues. The neighborhood where rock band Aerosmith got their start is still going strong.
With a focus on rental properties, prospective homeowners will find few, if any, houses for sale in Allston. However, those looking at condos or townhomes will find a lot to love in Allston and Lower Allston.
Back Bay
The Back Bay neighborhood has come a long way from its roots as a marshy swampland in the early nineteenth century. In 1820, Bostonians created a new neighborhood by filling in the wetlands, providing the solid foundation upon which the Back Bay neighborhood sits to this day. Home to the bustling Newbury Street shopping district, as well as the gorgeous green spaces of the Boston Public Garden and Boston Common, the Back Bay neighborhood effortlessly blends a quiet, small-town charm with Boston's big-city appeal.
Combining quiet, tree-lined streets with some of Boston's busiest thoroughfares and tourist destinations, Back Bay is one of the most sought after destinations for would-be homeowners in Boston. If the idea of upscale living with quick and easy access to the rest of the city – even by Boston's high standards – appeals to you, then look no further than Back Bay.
Bay Village
Tucked between the Back Bay and South End neighborhoods – two of the hottest in all of Boston – the 25 acres of Bay Village has a charming, tranquil, small village vibe about it, despite being centrally located in one of the biggest cities in America. Houses rarely go up for sale, and those that do are often historic sites. If you find a listing that catches your eye on Bostonpads.com, act fast; properties are sold before you know it.
Beacon Hill
When people talk about the picturesque Boston scenery, chances are they mean Beacon Hill. It is home to one of the most photographed and painted streets in the United States, Acorn Street. Beacon Hill is also home to classy brick and cobblestone buildings, gas lanterns, and many stellar examples of Greek revival and Federal Revival architecture.
Homes for sale in this historic, scenic neighborhood move quickly. Act fast if you see something you love.
Brighton
Near to Harvard, Boston College, and most recently, the New Balance World Headquarters, residents flock to Brighton for an excellent neighborhood and a drastically shorter commute. With the recently constructed Boston Landing – 15 acres of offices, retail, facilities for the Celtics and Bruins, Bose, Mass Innovation Labs, and many more – Brighton promises to be a hub of activity for the near future.
With a charming blend of neighborhood vibes and urban convenience and sophistication, houses for sale in Boston, MA's Brighton neighborhood tend to sell quickly, often reaching agreements just days after hitting the market. Working with local agents, like the ones you find on Bostonpads.com, can save you the headache – and heartache – of losing a great place.
Charlestown
Home to a plethora of historic landmarks – including the Freedom Trail – Charlestown's roots go deep into American history. With an old-school brick house charm that compares favorably to neighborhoods like Beacon Hill or Back Bay, Charlestown's gas lamp and cobblestone-lined addresses are significantly more attainable than those neighborhoods. Charlestown is a bit more off the beaten path.
While possessed of some truly excellent shops and restaurants, Charlestown is primarily a residential neighborhood. Since it's a warm, friendly, and close-knit community, the houses for sale in Boston, MA's Charlestown neighborhood consistently appreciate year after year. In addition to two Orange Line T stops, residents can take the Charlestown Navy Yard ferry to and from downtown.
Chinatown/Leather District
At the intersection of Beach Street and Surface Road, the stately Chinatown paifang gate greets entrants to its vibrant, colorful streets and close-knit culture. It is a hotspot for hot pot and other authentic Asian cuisine. With its close proximity to Tufts, amazing cuisine, and rich culture, Chinatown attracts residents of every sort. Still, houses for sale are rare, with condos providing the bulk of available homes both here, and in the nearby Leather District. In the Leather District, former factories and warehouses have transformed into stylish, luxurious lofts. Even with these additions, rentals still dominate Chinatown residences.
Dorchester
With more than 125,000 residents occupying six square miles, Dorchester is practically a city in its own right with its own districts. In fact, it used to be an independent city until annexed into Boston in 1870. Ashmont Hill is notable for its gorgeous Victorian houses, while Dorchester's signature triple-decker homes grace areas from Neponset to the verdant Savin Hill.
Residents enjoy the benefits of a wide range of international cuisines. This is a neighborhood where you can get bubble tea on your way to authentic Jamaican jerk, and finish it off with Polish pączki or a drink from a traditional Irish pub. Dorchester is beloved for its involved and vibrant community and mix of old favorite spots and new bars, cafes, and restaurants. Among the city's many neighborhoods, it also boasts some of the most varied and affordable houses for sale in Boston, MA. All of these attributes make it an ideal neighborhood for anyone looking to purchase a house in Boston.
Downtown
The heart of the city, Downtown is Boston's largest commercial district, as well as its central business district. It has tourist attractions, corporate headquarters, Emerson College, dining, nightlife, and shopping. Downtown Boston has just about everything except houses for sale. While condos and apartments are plentiful for the right price, those looking to live in a house near Downtown would do well to look at nearby neighborhoods such as North End, Bay Village, or Beacon Hill.
East Boston
Enjoying a surge of popularity due to new waterfront developments, and an array of dining, shopping, and entertainment options, Eastie is thriving. Transportation access is great due to the reliable Blue Line, the recently added Silver Line 3 bus, and of course, Logan International Airport.
Whether you are in the market for a classic triple-decker home, one of the elusive single-family homes that occasionally come to market, or a condo overlooking the waterfront, East Boston is a fantastic place to find your dream home in Boston.
Fenway
Even out-of-towners know this neighborhood due to the beloved Fenway Park, home of the Boston Red Sox. This energetic community lives right at the heart of Boston, with easy access to the rest of the city, the verdant Emerald Necklace green spaces, The Museum of Fine Arts, and numerous colleges and universities. Yes, the Red Sox play here, as proud residents will happily remind you.
Considering houses for sale in Boston, MA, Fenway/Kenmore might not have the number of properties as in East Boston, but you can reliably find a range of available homes for sale in this vibrant neighborhood.
Hyde Park
With the motto "A Small Town in the City", Hyde Park brings an outdoorsy, quaint, and downright rustic charm to Boston's southernmost neighborhood. With an array of gorgeous Victorians, Capes, and ranch houses on tree-lined streets, Hyde Park offers a taste of suburbia in a location that is close to downtown. Favoring local haunts like Ron's Ice Cream (which doubles as a bowling alley) and the Fairmount Grill over flashy upscale dining, residents enjoy some of the most affordable homes for sale in Boston, MA.
Jamaica Plain
One of Boston's greenest neighborhoods, Jamaica Plain houses the oldest public arboretum, the Arnold Arboretum, in the United States Jamaica Plain also contains Olmsted Park, Jamaica Pond, and numerous trails crisscrossing the neighborhood. Colorful Victorian homes and independently owned and operated restaurants, cafes, and shops mark this energetic neighborhood.
Mattapan
With the explosive growth of apartment buildings and luxury condos, Mattapan remains a haven for single and multi-family homes, and offers some of the most affordable houses for sale in Boston, MA. Here, homeowners can still find single-family, Victorian era houses for the price of a one-bedroom apartment in the Seaport or Downtown.
Mission Hill
Packing more personality into its lone square mile than some entire cities, Mission Hill is one of Boston's most diverse, vibrant, and energetic neighborhoods. With its close-knit vibe, a combination of affordable rentals and condos provide the bulk of available homes in Mission Hill.
North End
One of the most desirable residential areas in Boston, the North End is nestled between Downtown and the Waterfront, and is a frequent tourist destination for those with a taste for gelato. Due to the competitive market, it is a good idea to work with an agent months in advance of your desired moving date. Boston Pads enables you to contact knowledgeable, local brokers. By working with a locally sourced real estate portal, you can avoid dead listings and misleading information.
Roslindale
No one loves Roslindale like Roslindale's residents. Indeed, few people seem to love anything as much as Roslindale's residents love their neighborhood. With a diverse mix of people and businesses to go with its plentiful green spaces, Rozzy's residents can scarcely find a bad thing to say about the place. More than Hyde Park or West Roxbury, Roslindale manages to combine a variety of single-family homes with a more urban feel.
Roxbury
Defined by love of community, generational residents feel privileged to have grown up in the neighborhood, while new arrivals remark that they have never lived anywhere as friendly as this diverse, charming neighborhood. With exciting new shops and restaurants in Dudley Square, and the easily accessible Roxbury Crossing Orange Line T stop, Roxbury has a lot to offer potential residents. Whether you are in the market for an energy efficient townhouse in historic Highland Park, or a single-family home near one of Roxbury's many green spaces, Roxbury has one of the widest ranges of houses for sale in Boston, MA.
The Seaport/Waterfront
A literal breath of fresh air, the former South Boston Waterfront has undergone an impressive transformation over the past decade. The first innovation district in the United States, today's Seaport is arguably the most exciting neighborhood in Boston, with new corporate headquarters, vibrant startups, fantastic cuisine, and excellent nightlife. Homebuyers may not find single-family houses, but anyone looking for the best luxury condos in Boston should swing by the Waterfront.
South Boston
No longer the best-kept secret in Boston, the word is out about Southie, and the hidden gem is looking more and more like a crown jewel. One of the most historic districts in a historic city, South Boston's famous St. Patrick's Day Parade is one of the area's best celebrations. Houses for sale in Boston, MA's South Boston neighborhood typically last 1-2 months on the market, which is neither slow nor outrageously fast. At any pace, South Boston offers an excellent array of single-family and multi-family homes.
South End
One of the most stylish neighborhoods in Boston, the South End combines the class of brownstones in a row with new construction that rivals any in New England. Residents and tourists frequently cite the South End as Boston's best neighborhood for food, which is high praise indeed, considering what is available. However, B&G Oysters, Coppa, Toro, Gaslight, and others make the point difficult to argue.
Close to Chinatown and the Back Bay, residents can enjoy some of the best that Boston has to offer, and can do so without venturing far from home. South End boasts some of the most gorgeous and sought-after houses for sale in Boston, MA, and the prices reflect that. However, skeptics will be hard-pressed to find residents living in the South End who do not consider their homes worth every last penny.
Symphony/Northeastern
Just to the east of the Fenway, Symphony offers all the rich experience one would expect from living in Boston's cultural district. With Fenway Park, Kenmore Square, and of course, Symphony Hall, the Symphony/Northeastern neighborhood has a lot to offer residents. As of this writing, most of those offerings are rental properties. Houses for sale are rare, though well-informed prospective homeowners can still occasionally find homes for sale in Symphony, Boston by working closely with real estate agents from Boston Pads.
West End
The Red Sox invigorate Fenway's culture. Just imagine what having both the Celtics and the Bruins in your backyard can do! With TD Garden located within its borders, the West End is positively hopping year-round, heating up the cold winter months. With the TD Garden taking up most of the space, housing is difficult to find.. However, if your heart is set on living in the middle of the action, you will want to work with local agents (like those on Bostonpads.com) who can help you get ready to move quickly if something materializes. .
West Roxbury
Wrapping things up, West Roxbury is the poster child for a suburban feel within city limits. With comparatively affordable single-family homes, yards, access to Boston schools, the MBTA Commuter Rail, and its own hip restaurants and coffee shops, West Roxbury might well be the best place to find houses for sale in Boston, MA.
Population
As of the time of this writing, Boston's estimated population is 694,583 residents, good for the most populated city in New England. With an average population density of 13,841 people per square mile, it's one of the busiest cities in America even before accounting for the ebb and flow of people coming and going. An estimated 1.2 million people can be found in Boston city limits during work hours, with the number climbing as high as 2 million during special events such as the St. Patrick's Day Parade.
Real Estate Data on Houses for Sale in Boston, MA
It is no secret that Boston's real estate market enjoyed explosive growth this past decade. Bolstered by Boston's strong presence in the science and technology fields, prospective homeowners continue to flock to the city, looking to purchase homes.
As of this writing, the median value of homes for sale in Boston, MA is an even $599,400, with an expected 1-year appreciation rate of 6.5% for properties within city limits; some consider a number of 8.0% more realistic. All of this adds up to make investing in the houses for sale in Boston, MA a sound strategy, and one to enact sooner rather than later.
Transportation near Homes for Sale in Boston, MA
Among the oldest cities in America, Boston positively radiates history from every street corner. If you are moving to Boston from a city like Chicago, Salt Lake City, or Phoenix – where streets are laid out in an organized grid – Boston's layout owes more to historic, pioneering expansion rather than an organized, top-down approach.
The independent spirit of Boston's first settlers is evident when getting around the city. Whereas some cities' byways operate on a set of basic assumptions and rules, Boston's thoroughfares have their own personality; you have to learn to interact with them on their terms. While conducting interviews for these articles, one couple compared getting around in Boston (as opposed to Austin, Texas) as the difference between learning local etiquette, and getting to know your neighbors. Both require effort to learn, but only the latter gives you a genuine connection.
Public Transportation near Homes for Sale in Boston, MA
The Massachusetts Bay transportation Authority (MBTA, or frequently just "the T") handles the bulk of Greater Boston's public transportation load with light and heavy rail, subway, commuter rail, trolley service, and bus options. This makes Boston one of the easiest cities to get around without the need to own a car. Frequently mentioned in any discussion of American cities with the best public transportation, personal finance site wallethub.com just released new rankings features Boston at #2 nationwide (with a total score of 77.84). This is just behind Seattle (#1 with a score of 77.97). Both cities enjoy a lead of two percentage points over 3rd-ranked San Francisco, and over 10 points ahead of #10 Portland.
One uniquely Bostonian form of public transit takes advantage of the harbor. With water taxis, commuter ferries, and other forms of water transit, heading across the bay provides yet another public transit option that simply does not exist in most other cities. Overall, Boston public transit commuters have an average round trip of 83 minutes per day, compared to 64 minutes for personal transportation. For many residents, the benefit of not having to drive is more than worth the extra time. Commuters use the time to catch up on podcasts, read, or otherwise decompress from their day at work, rather than unintentionally "taking their work home" with them. If the idea of letting someone else handle your commute is appealing, Boston has a lot to offer.
Logan International Airport
The largest airport in New England, and one of the top 20 busiest airports in the United States, Logan International Airport – or Logan, for short – offers nonstop flights across the US, as well as Canada, Mexico, the North Atlantic, Europe, Africa, Asia, Latin America, and the Caribbean. With rail, bus, and even ferry options, easy public transportation to and from the airport makes travel that much simpler.
Driving in Boston, MA
It is no secret that Boston is a fantastic place to live, work, and play. That means traffic, especially during morning and evening commutes. However, one factor that often surprises new residents or visitors is how their GPS system reacts to the quirks of Boston's historical roadways. Drivers are assertive, and your GPS might not account for similarly named or one-way streets Therefore, you will want to be aware of your surroundings, and ready to ignore automated directions.
Parking near Houses for Sale in Boston, MA
Like all real estate in Boston, parking spaces can be competitive and hotly desired. With ardent competition for metered parking and public garage spots, drivers should pay close attention to what parking is, and is not, offered with different houses for sale in Boston, MA. On-street parking spaces are more numerous and affordable than private driveways or garages, but some homeowners swear by the private accommodations that the latter options provide. If you intend to own a vehicle while living in Boston, finding a parking situation that meets your needs should be near the top of your list when making a decision.
Other Forms of Transit in Boston, MA
Boston is a tightly grouped, close-quarters city, and the sidewalks, bike lanes, crosswalks, and other overland travel routes reflect this. Many residents forgo motorized vehicles altogether, making their way to work, school, and shopping in their own way. Sidewalk traffic is popular in every corner of the city, with many residents eschewing outside transportation as frequently as possible. They prefer to drink in the atmosphere of this one-of-a-kind city.
Education near Houses for Sale in Boston, MA
Think of the best colleges in the United States. Names like Harvard, MIT, or even the Berklee College of Music all stand out at the top of their divisions. Of course, they all reside in Greater Boston. However, education in Boston does not begin and end with its excellent universities. With an excellent array of private and public schools available, Boston schools provide top-rate education from Pre-K through Ph.D.
Public Schools near Houses for Sale in Boston, MA
Boston bases primary education placement on regional districts. Each of Boston's public high schools is open to all of its students, regardless of their address. According to Niche.com, Boston Public Schools place in the 99th percentile for the most diverse school districts in America, and the 90th percentile for the best places to teach in America. This neighborhood-ranking website also recognizes Boston as one of the districts with the best teachers in Massachusetts.
Greatschools.org likewise praises the district, giving particularly high marks to the K-9 Edward Brooke Charter School, Boston Latin School and Boston Latin Academy, and the John D. O'Bryant School of Math and Science, formerly known as Boston Technical High School.
Private Schools near Houses for Sale in Boston, MA
Boston's rich cultural history includes multiple private schools, which are some of the oldest and most respected in the country. With an average student/teacher ratio of 7:1, Boston's private schools offer an excellent educational environment. From the excellent Kingsley and Torit Montessori schools, to international schools, religious schools, and more, Boston residents have access to some fantastic private education options. When looking at houses for sale in Boston, MA, keep an eye out for places near any schools that pique your interest. Easy access to a school that you love can be the difference between a nice house and your dream home.
Colleges and Universities near Houses for Sale in Boston, MA
While prestigious schools like Harvard, MIT, and Tufts are located in the greater Boston metropolis, there are still over 30 institutions of higher learning with Boston addresses. From historical institutions like Boston University, Northeastern University, and Emerson College, to specialized institutions such as the New England School of Law, New England College of Business and Finance, and the renowned Boston Architectural College, everyone can find the school they need.
Boston is also a hotbed of artistic scholarship. Berklee College of Music is renowned the world over for its in-depth study of jazz and other contemporary musical styles. Founded in 1867, the New England Conservatory of Music (NEC) is not only the oldest independent music school in the United States, it is also the only such school granted National Historic Landmark status. Add to that mix the Massachusetts College of Art and Design – one of the oldest art schools in the nation, as well as the only freestanding, publicly funded one – Boston truly is a destination for higher education of all stripes.
Daily Life in Boston
Not to knock on any other metropolises, but Boston really does have it all – a booming economy, deep historic roots, and every amenity you could ask from a big city. Despite its size, it never loses its charm or character. Mornings on the commuter rail blend into nights at some of the nation's best restaurants, all while living in one of the most picturesque cities in the world No matter what the season, Boston remains beautiful. Little wonder that so many consider Boston the best city in America.
The number of options might seem overwhelming. However, the agents at Bostonpads.com will never give you incorrect, misleading, or closed listings. Any one of the agents we partner with would be happy to help you sort through the myriad houses for sale in Boston, MA to find your dream home.